WORD THROUGH THE GRAPEVINE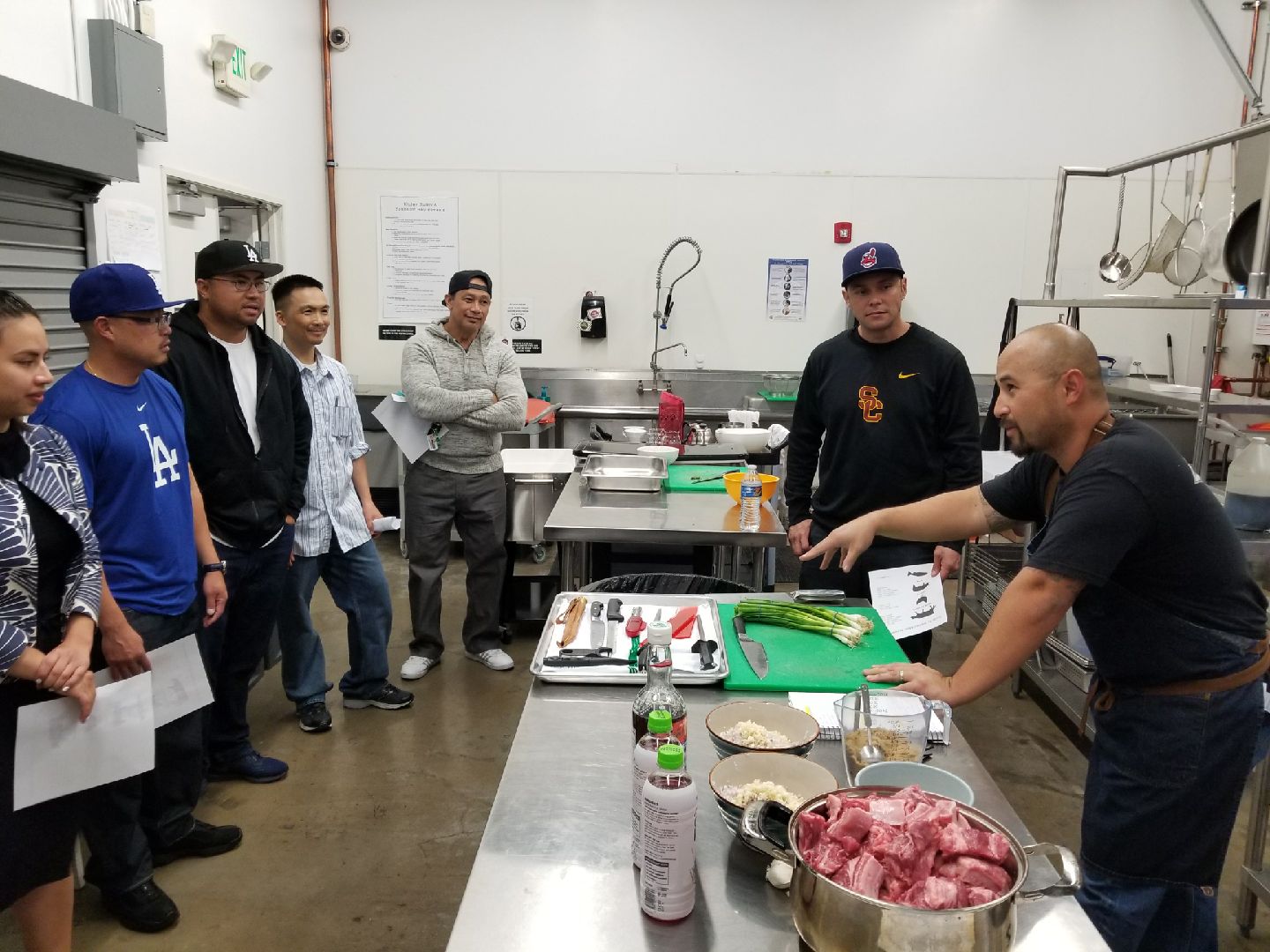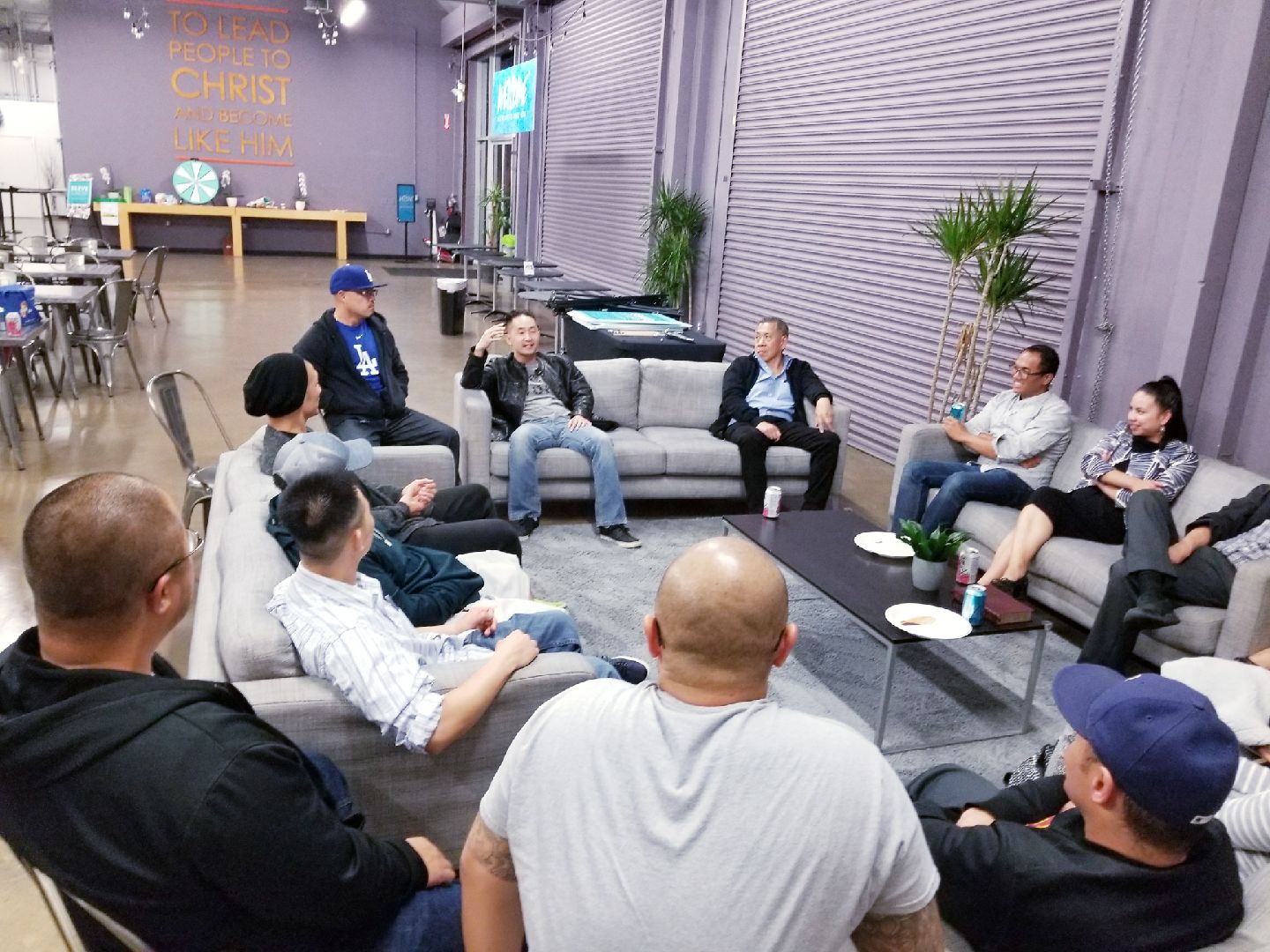 API RISE WORKSHOP: COOKING 101
UPDATE 05/21/18
This past Monday, API RISE family had our monthly meeting and had an incredible Cooking 101 Workshop. Not only were we scheduled for a workshop but we made it into a Potluck where our members brought out delicious entrees and desserts for us all. Thank you to everyone who brought food to contribute to the Cooking 101 workshop. The workshop was taught by our very own low key chef Duc, who did a great job explaining the basics of moving around the kitchen. We learned about basic knife skills, sharpening a knife, universal protein temperature, what the color cutting boards stood for and to cap it off with a delicious Vietnamese dish called Caramelized Pork Short Ribs.
As always, we open our doors everyone every third Monday of the week. Come on in, check out what we do as an organization in the community of Los Angeles. Break some bread with strangers and leave as friends at the end of the meeting. We are here to show and provide support to the men and women coming home from prison. There is a safe place of community for you where others are walking the path of change and living a beautiful life on their second chance.
CELEBRATING TWO MEN'S HOMECOMING
UPDATE 04/23/18
This past Monday, API RISE members all met for our monthly gathering to celebrate Billy's release and also new member Tin who was also recently released from detention. This has been a long time coming for both men who have made the conscious decision to turn their lives around within detention walls way before their release back into society. The road to change in prison is not an easy one, one faces many dangerous challenges with the men and prison politics. I want to talk about the difficulty an individual faces when making the choice to change in prison. Many think it's a simple, just make the decision to change. If that was the case, we'd have a peaceful prison system and a crime free community. Getting to that point when you're mentally ready takes years of trials and tribulations for many and for those who changed for the better immediately, kudos to you. I speak from my own experience as someone who was formerly incarcerated and witnessed others in their struggle to change behind prison walls.
Having the desire to change for the better is common, one can say it all day long but there must be an action to follow that desire. When you enter prison, automatically you enter a world ruled governed by a system of gangs, race and prison politics. Prison Politics is defined as, "A set of rules created and enforced by the convicts among themselves." Rules and regulations enforced by violence, manipulation, and fear to keep order. Every decision made and executed is done in justification of "Keeping the Peace" for your car. The term "Car" is a metaphor for the people you choose to ride with during your prison term. Example, if you're Asian, the "car" you ride for are the Asians and the same for other races. What you do in prison whether conscience of it or not has a ripple effect to everyone else in their car. Good and Bad. In order to keep myself out of trouble and bringing trouble to my car, we enforce "prison politics" to "keep the peace." Although this works for the most part, there are times when it doesn't and someone does something stupid and shit hits the fan. For many years I and many others lived by and enforced these prison politics. It's crazy and absurd to the reader who has not spent a day incarcerated but to everyone who has, it makes perfect sense. We all think of prison as a place of chaos and violence, what television shows like OZ or Orange is the New Black glorifies. Yes, 10 percent is truth and the other 90 for your entertainment. On one hand, I understand why prison politics exist but on the other hand, it's completely insane and atrocious.
I speak a little about the prison experience to emphasize to the reader of the magnitude of self-consciousness, courage and most importantly true change from within these men's heart. Without those three things, their transformation and freedom would not have been possible. Tin and Billy are walking their talk, they made that break from the prison politics and paved their own road in their lives. They made the choice to change for the better when they didn't even know if they would ever get out of prison. That there ladies and gentlemen is genuine and authentic change when you can do it within those walls of hardship. I'm not only proud of both men but all the men and women who found themselves on their journey to freedom. It took a lot of work, determination and courage to succeed in a world walking quicksand. I and API RISE am honored to be a part of that journey and witness your continued success! Welcome home Billy and Tin! Cheers.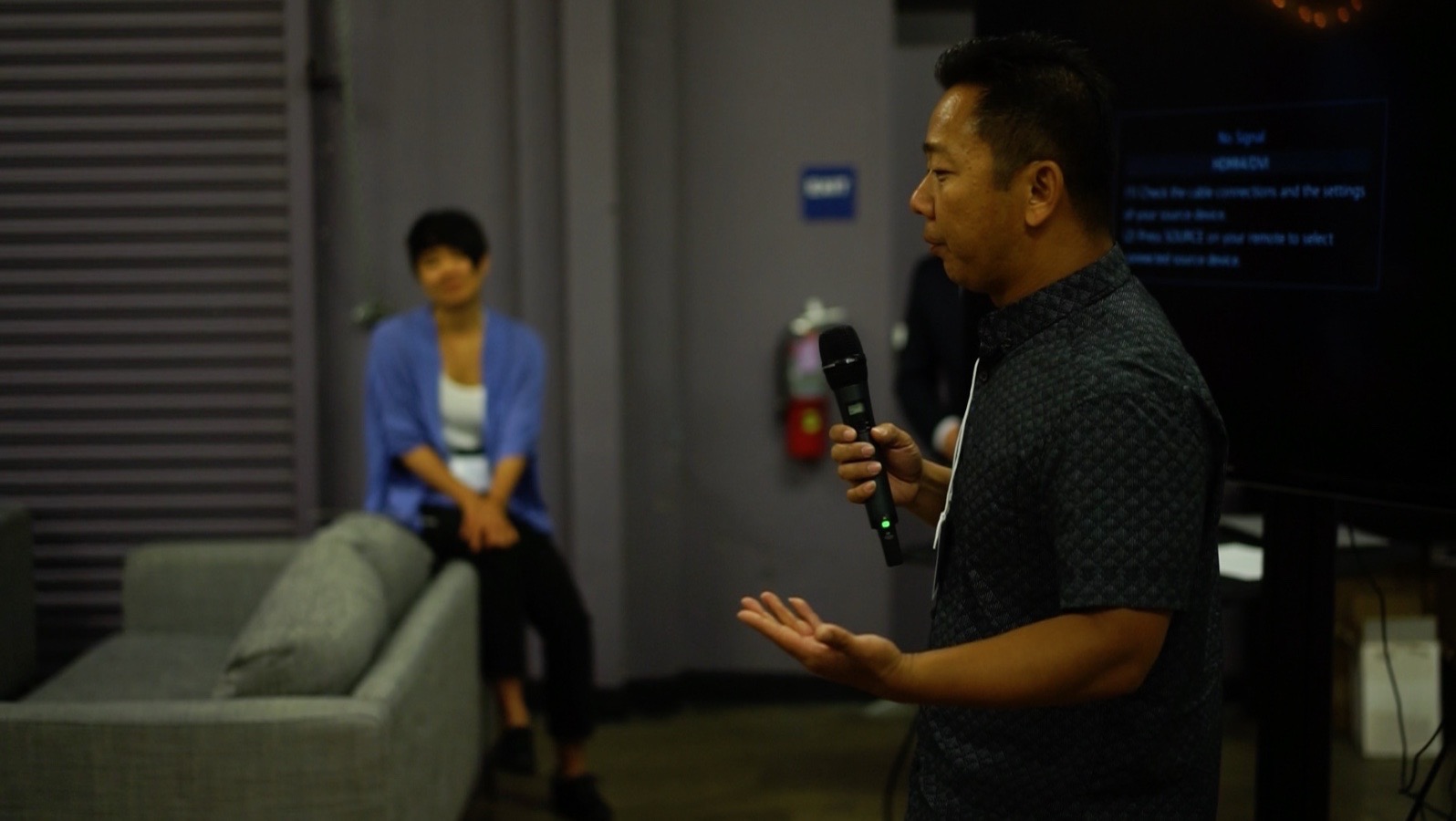 Photo Credit: Tu2 Ming
Houth Taing goes by his American name, Billy. Billy's family escaped Communist China under Mao Zedong's violently repressive rule and fled to Cambodia. When the brutal Khmer Rouge came to power, they banned the existence of ethnic Chinese. His father, a Professor and basketball coach, was dragged away from the family home, beaten and killed. The reason? A passerby heard him speaking Chinese.
Billy was four at the time and his mother struggled to take care of him and his older brother. But she was beaten repeatedly by the Khmer Rouge for not working fast enough, beatings that left lasting and debilitating injuries. When her entire family was killed, she fled, walking four months to the Thailand border carrying Billy and his brother. She didn't think she would make it, but all she knew was that she had to try to get her children somewhere where they could survive.
Once in Thailand, they were shuffled from camp to camp for over a year before finally landing in Los Angeles, CA. Knowing no one, she began to make a life for herself and her children cooking Chinese rice cakes for local restaurants.
Without his father to guide him and with a mother struggling with language and cultural barriers, Billy took the all too common path of disenfranchised, immigrant youth wrestling with identity in a new country. He wanted to be a dutiful son and serve his country so he joined the National Guard at 17yrs old. But he also found himself pulled, feeling accepted and understood by the gang culture that was rampant in Los Angeles during the nineteen-eighties. At age 19, he and two others robbed a tour-bus, a crime that while no one was physically hurt, surely left lasting emotional scars on his victims. He served 21 years on a life sentence for that robbery and he was released on parole on January 27, 2016.
Billy takes full ownership for his mistakes and regrets deeply the crime he committed and the harm he caused his victims. He continues to make restitution for his crime by continuing to become a better man every day by improving himself through personal growth. His outlook on life is to live a productive lifestyle while doing his part to contribute to the community anyway that he can.
Billy wasn't aware that he needed to become a citizen when he turned 18. He thought his green card status meant he was a citizen. They accepted him in the National Guard, didn't they? It wasn't until he was 16 years into his prison sentence that he learned he could be deported now that he had committed an aggravated felony.
Since his year and a half home from prison, he has gotten a part-time job at an auto broker company while immersing himself in various organizations (API RISE, Anti-Recidivism Coalition, Second Call, and The Francisco Home programs, to name a few), in addition to doing various volunteer work for the community. He participates in Defy Ventures, a program which aims to train formerly incarcerated entrepreneurs. He also recently completed a pre-apprenticeship training program and passed both entrance exams for Local 11 and Local 501 unions. He has been looking forward to using the entrepreneurial skills he's been learning to establish a career in the construction field.
On October 5th, 2017, he was asked to report to Homeland Security's Office of Immigration Customs and Enforcement. He was detained that same day and is now in detention awaiting an interview with the Cambodia Consulate to decide his fate.
He asks that he be allowed to remain in the United States. He doesn't speak Khmer and his family has no more relatives in Cambodia because they were all killed. They were war refugees, ethnically Chinese, not Cambodian. He is the main caretaker of his mother, who is now on disability due to the physical damage inflicted from beatings by the Khmer Rouge. Brought here at age five, America is the only country he's known and if left to remain here would undoubtedly become a great asset and valued member of the community.
 
Mr. Trump: I Am an Immigrant With a Criminal Record
By LUNDY KHOY NOV. 24, 2016
WASHINGTON — I arrived in the United States on Nov. 12, 1981, when I was 1. My parents had fled the Pol Pot genocide in Cambodia, in which over two million people were murdered. I was born in a refugee camp in Thailand before moving to California, and then Virginia.
None of these facts may seem important, but I assure you, they are. My parents and I were granted legal permanent resident status; my brother and sister, who were born here, are citizens. The three of us were typical American kids, eating Cheerios for breakfast and taking the bus to school. We went to Disneyland and religiously watched the Fourth of July fireworks from the beach. As a teenager I attended school dances in all of their crepe glory. I am not an American citizen, but there is no way I am not an American.
Donald J. Trump said that his administration will "get the people that are criminal and have criminal records, gang members, drug dealers, we have a lot of these people, probably two million, it could be even three million." He continued, "We are getting them out of our country or we are going to incarcerate. But we're getting them out of our country."
I'm not a gang member. I'm not a drug dealer. But I have a criminal record, and I'm afraid.
My parents were very strict when I was growing up. We were expected to come straight home after school to do our homework and then start on our chores. No extracurricular activities. Although it was a happy home, I struggled to find independence.
Pro-immigrant groups were among the demonstrators outside a Trump hotel after the election.
Credit: Spencer Platt/Getty Images
I think that's partly why, when I started college at George Mason University, I was very naïve — and very foolish. My new friends introduced me to drugs. I had no idea of the consequences behind the choices I made.
In the spring of 2000, I was walking along the street with an American-born friend when we were stopped by a police officer. I was carrying seven tablets of Ecstasy. I was arrested for possession with intent to sell, which is a felony in Virginia. On the advice of my lawyer — and feeling that a trial would increase my family's suffering and embarrassment — I pleaded guilty and was sentenced to five years in jail. My sentence was suspended, so I spent only three months in the Virginia Department of Corrections. I then served four years on probation, and my level of supervision was gradually reduced as I demonstrated good behavior.
I used the freedom that was given to me to better myself. I moved back in with my parents, began working full time at a mortgage company, and enrolled at Northern Virginia Community College. I paid my taxes, contributed to society and tried to make my parents proud.
Then, in 2004, I went for what I thought was a routine visit to my probation officer. I had even brought along my most recent report card to show the growth I had made. What I encountered was a multitude of officers from Immigration and Customs Enforcement, instructing me to hand over my possessions and stand spread-eagle against the wall. As my probation officer gave me an apologetic look, they escorted me out of the office, handcuffed me and eventually took me to Hampton Roads Regional Jail, in southern Virginia.
I was dumbstruck. I had been following all the rules. I could not understand why I was being arrested again. Immigration officers eventually informed me that my conviction meant I would most likely be deported from the United States. For me this was a second punishment for the very same crime, and this one, though never discussed or even mentioned three years earlier when I pleaded guilty, was worse than the first.
If I was deported, I would be sent to Cambodia. But I had never even been to Cambodia! Our entire family had moved to the United States at this point; we knew no one there. I was terrified.
I was held in a detention center for nearly nine months before being released under the supervision of the immigration agency. I returned once again to college and started working at a university as an enrollment counselor. I married and had a son.
This spring, I received a pardon from the governor of Virginia that mentioned my "commitment to good citizenship." But immigration law is separate from criminal law, and my record still exists. Even though the state has forgiven my crime, the federal government could still decide to deport me. I am not eligible for citizenship.
Yes, I did make a mistake at a very young age. I fully understand that, but I have also embraced the tremendous consequences of that mistake. I served my time in jail without complaint. The only part of my punishment that I ask for leniency on is my deportation.
Deporting me may be within the authority of the law, but I implore Mr. Trump and his supporters to look past my mistakes. Every year I stay here is one more year I grow and acquire skills and knowledge that allow me to contribute more to this country. By giving me the tremendous opportunity to remain here, you would be allowing me to truly live how I've felt I've lived my entire life: as an American.
Our partners at The Southeast Asia Resource Action Center in Washington D.C. (SEARAC) put together a community SIGN ON letter to support her case, and we welcome both individuals and organizations to sign on. Please consider supporting Lundy and forward to your networks! Text of the letter can be found here.
Photo Credit: Duc Ta
Phal posted bond and was released on 12/30/16! He is currently in Los Angeles and getting settled in after several months of detention. Thank you for your support! Please continue to draw awareness to Phal's case and his need for legal representation!
11/25/2017
Phal continues to fight for his freedom and is currently filing for a full pardon from the Governor of California. He works for the Los Angeles Youth Justice Coalition and will be featured in an upcoming special on HBO'S Vice News.
05/04/2017
API RISE FUNDRAISER DINNER
STAY TUNE FOR API RISE'S 2018 FUNDRAISER!